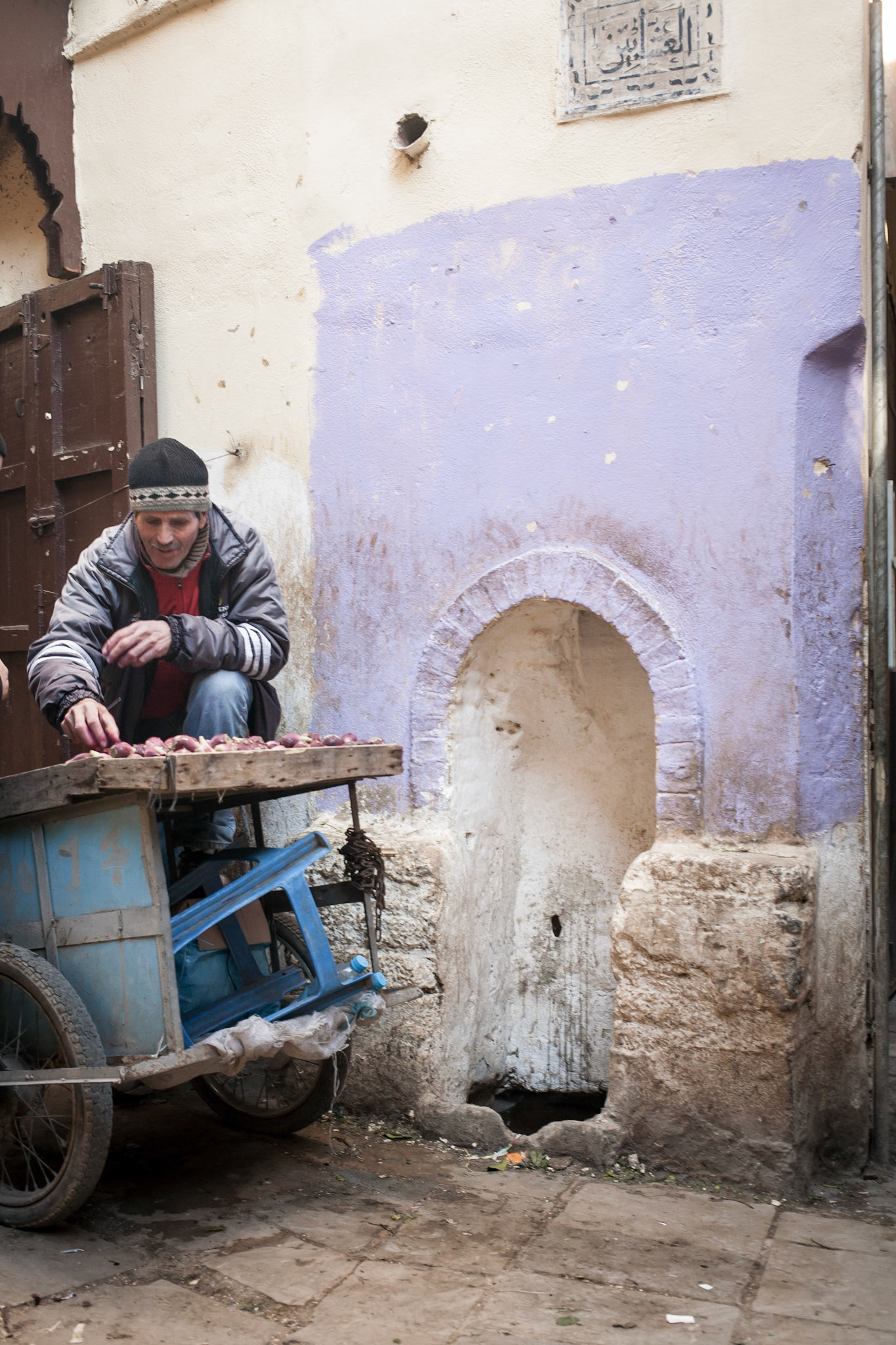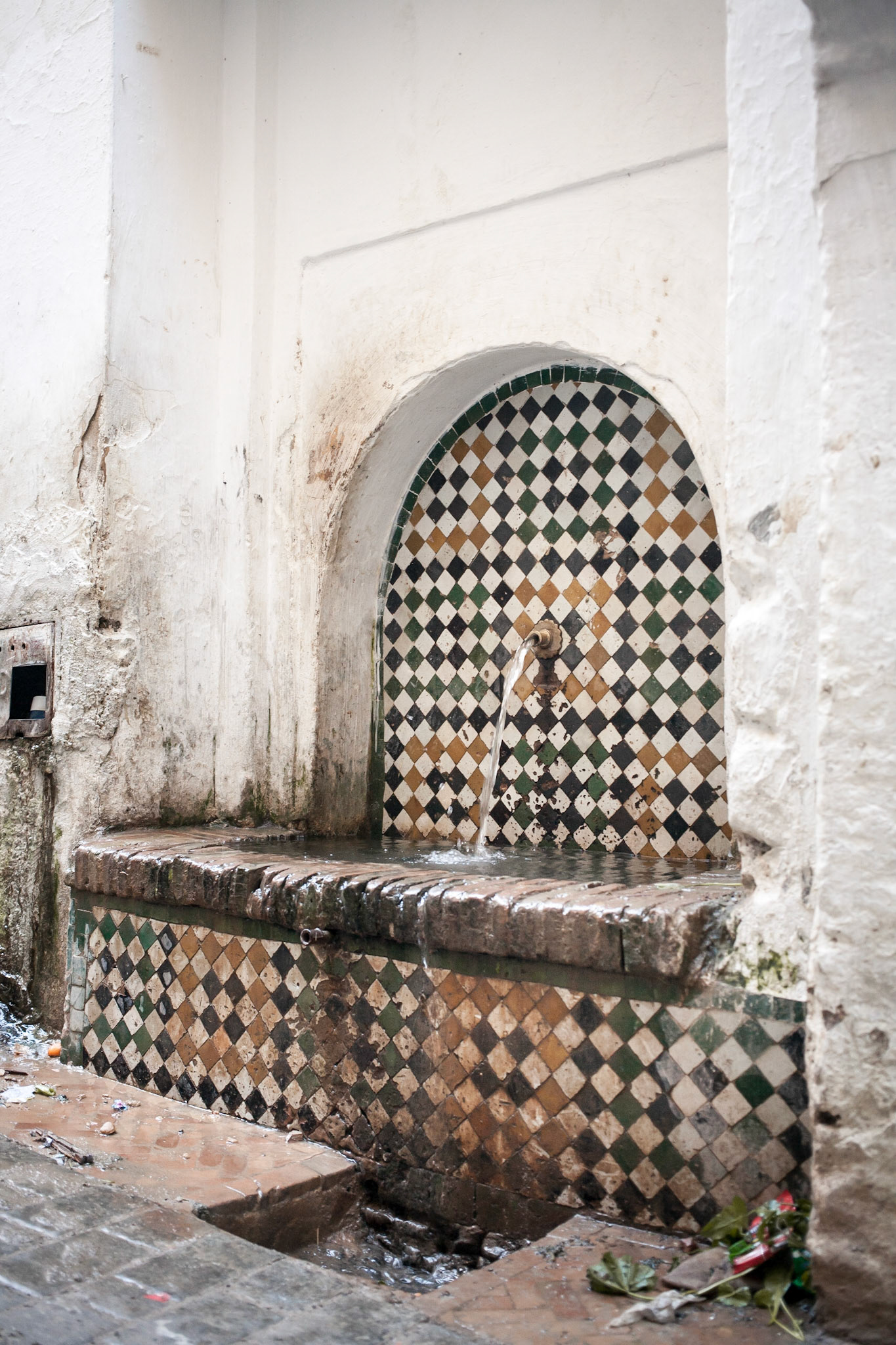 [ESP] Fuentes de Fez, Marruecos
Este proyecto nació casi por casualidad después de dos visitas turísticas a Fez, donde los suks – mercados tradicionales -  se intercalan sin interrupción desde el Bab Boujloud a la parte inferior de la medina, un laberinto donde las fachadas de las casas desaparecen detrás de los productos a la venta, sin dejar ningún punto de referencia.   Aquí se camina siguiendo el propio instinto, ningún mapa puede ayudar, sólo la experiencia puede guiarte en este paisaje tan intrincado e intenso.   Tratar de seguir una ruta es casi imposible, la ciudad se envuelve alrededor de sí misma, sube y baja pasando de callejones a galerías a cielo abierto que revelan espacios inesperados. Traté de reconstruir mentalmente la sucesión de calles, plazas, escaleras, patios, túneles y pequeños jardines, sin éxito. Tal vez la única manera de visitar la medina es dejarse llevar por el acaso y renunciar ubicarse. Se pierden demasiadas cosas mirando el mapa.   Paseando por las calles inundadas de mercancías de todo tipo, llenas de olores y perfumes, con todos los sentidos en hiperactividad, dos veces no me he dado cuenta de nada.   En mi tercer viaje, con la espléndida descripción de la vida de esta ciudad hecha por Paul Bowles, empecé a comprender mejor la estructura de este laberinto de calles. Así descubrí pequeñas joyas que pueden pasan desapercibidas: las fuentes de Fez, una de las primeras ciudades del mundo en construir un sistema público de distribución de agua.   Esta vez estaba alojado en Ruined Garden, y su propietaria, una inglesa que vive en Fez desde hace muchos años, me puso en contacto con un gran conocedor de la ciudad que me ayudó a ubicar estos tesoros escondidos y subestimados, acompañándome en largos paseos. Es imposible reconstruir el camino que hemos hecho, por esta vez tuve que renunciar a prepararme antes de fotografiar eligiendo la mejor hora para cada sujeto. Me he dejado llevar por el acaso y por veces he tenido que renunciar a un disparo.     La serie completa de este proyecto consiste en 64 fuentes fotografiadas, algunas reestructuradas, otras abandonadas o saqueadas, la mayoría ya no utilizadas. Las que antes eran lugares de reunión y socialización, se encuentran a menudo cubiertas con mercancías a la venta o desechos. Tomar un tiempo para encontrarlas, observarlas y fotografiarlas no sólo consiste en la documentación de este patrimonio desestimado, pero también un homenaje a su valor social y artístico. [Filippo Poli]
[ITA] Le fontane di Fez, Marocco
Questo progetto è nato quasi per caso dopo due visite da turista a Fez dove i suk si susseguono senza soluzione di continuità dalla Bab Boujloud fino alla parte bassa della medina, un labirinto in cui le facciate delle case spariscono dietro ai prodotti in vendita senza lasciare nessun punto di riferimento.   Qui si cammina seguendo il proprio istinto, nessuna mappa può aiutarti, solo l'esperienza può guidarti in questo paesaggio cosi intricato ed intenso.   Cercare di seguire un itinerario è pressoché impossibile, la città si avvolge su sè stessa, sale e scende passando da vicoli a cielo aperto a gallerie che sbucano in spazi inattesi. Ho provato a pensare di ricostruire mentalmente la sezione di vie, piazze, scalinate, cortili, tunnel e piccoli giardini, senza successo. Forse l'unica maniera di visitare questa medina è lasciarsi trasportare dal caso e rinunciare ad ubicarsi. Si perdono troppe cose guardando la mappa.   Passeggiando nei vicoli inondati da merce di ogni tipo, intriso di odori e profumi, con tutti i sensi in iperattività, per ben due volte non ho notato nulla.   Al mio terzo viaggio, con ancora in testa la splendida descrizione della vita di questa città fatta da Paul Bowles, ho iniziato a comprendere meglio la struttura di questo dedalo di strade ed ho scoperto delle piccole gemme nascoste: le fonti di Fez, una delle prime città al mondo a costruire un sistema pubblico di distribuzione dell'acqua.   Questa volta alloggiavo al Ruined Garden, e la sua proprietaria, un'inglese qui oramai da molti anni, mi mise in contatto con un grande conoscitore della città che mi aiutò a mappare questo tesoro nascosto e poco valorizzato accompagnandomi in lunghe passeggiate di cui mi è impossibile ricostruire il percorso. Per questa volta ho dovuto rinunciare a prepararmi prima di andare a fotografare scegliendo l'ora migliore per ogni soggetto, mi sono affidato al caso e a volte ho dovuto rinunciare a scattare.   La serie completa di questo progetto è composta dalle fotografie di 64 fonti, alcune ristrutturate, altre abbandonate o saccheggiate, la maggior non più utilizzate. Quelle che una volta erano punti d'incontro e socialità, oggi sono spesso ricoperti di merci e pattumiera. Prendersi il tempo di scovarle, osservarle e fotografarle è non solo un modo per documentare questo patrimonio inesplorato, ma anche un tributo al loro valore sociale e artistico.
[ENG] Fez fountains, Morocco
This project has born almost by chance after two visits as a tourist to Fez, where the souks –Arab Marketplace– follow one another, with no interruption, from Bab Boujloud to the lower part of the medina, a maze in which the façades of the houses disappear behind the products they sell, not allowing you to have any reference point. Here you walk following your own instinct, no map can help you, the only thing that can guide you in this intricate and intense landscape, is the experience. Trying to follow a route is almost impossible; the city covers itself, up and down, going from alleyways to open-air, to covered routes that bring you to unexpected places. I have tried to mentally reconstruct the roads, squares, stairways, patios, tunnels and small gardens without success. Perhaps the only way to visit this medina is to be carried along by chance and not trying to orientate yourself. You lose so many things looking at a map. Walking through the alleyways, flooded with all sorts of merchandise, filled with smells and perfumes, hyperactivity in the five senses, there were two times when I did not notice anything. In my third travel, still remembering the magnificent description of this city's life given by Paul Bowles, I have started to better understand the structure of the streets' maze and I have discovered hidden little treasures: the fountains of Fez, one of the first cities in the world to create a public system of water supply. This time I was staying at Ruined Garden, and its owner, an English woman who lives in Fez since a long time put me in contact with a great connoisseur of the city, who helped me to map this hidden and undervalued treasure, accompanying me in long walks. It is impossible for me to reconstruct the route we followed, I had to renounce to get ready before going to take photographs, choosing the best hour for each subject. I left everything to chance and sometimes I had to renounce to shoot. The complete series of this project is composed of 64 photographs of fountains, some of which are restored, others abandoned or looted, and the majority, are no longer in-use. The fountains that, at one time, were a meeting and social point, now are often covered of merchandise and trash. Taking your time to find them, observe them and shoot them is not only a way of documenting this unexplored heritage, but it is also an attempt to pay a tribute to their artistic and social value.